Andy Law Pest Control provide professional pest mole control for domestic, agricultural and commercial customers. We can deal with small gardens through to entire tracts of farmland to control mole infestations in Perth.
We use modern mole control methods alongside the traditional, country crafts of mole control; we've all the controls needed to get rid of moles and molehills in Perth.
And, with a back ground in game-keeping that has given us years of experience of mole behaviour, plus the specialist qualifications in mole control that we hold, we can provide professional and effective mole control for mole problems just about anywhere. We are very careful using mole control too, making sure that children, pets or other animals aren't harmed and that all the control is done legally and safely.
Don't let mole hills and mole problems get out of hand, undermining ground, damaging machinery and spoiling pitches, playing fields and gardens. If in doubt, ring or email us for professional pest control advice on how to control moles, remove moles and get rid of molehills in Perth.
We can provide free mole control surveys to tell you what can be done to treat a mole infestation and how much it will cost. We've over 30 years' experience in pest mole control too. And we're available 7 days a week for mole control in Perth and pest control in Perth. We really do know what we're doing; you can trust us to get it right.
There's more information below on mole control and mole infestations.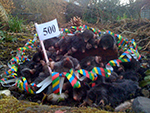 There are very many moles in Perth; they live and breed in the hills, woods and the open countryside and these moles invade fields and gardens year after year. Adult moles are most active from October to April and can dig up molehills and work through a garden, golf course or a seeded field very quickly. The soil and stones in these large molehills damage the surface and machinery and contaminate silage. Young moles sometimes cause problems during the summer months when they start out by themselves and try to establish their own territory. They dig up smaller molehills and have a habit of tunnelling just under the surface of the ground; you can see these shallow mole runs snaking across the smooth surfaces of lawns and playing fields.
We use several methods to get rid of moles and molehills in Perth. We are expert mole trappers and catch hundreds of mole this way every year; putting a mole trap in a mole run sounds very simple but is a real skill. We use good quality traps to make sure the mole are caught quickly and humanely and these traps give us a good catch rate too. We are fully and legally certified, trained and insured to buy, store and use poison gas to kill moles in their mole runs. And we have earth-collapsing equipment to destroy the mole runs after we've cleared them of moles.
Click here for more information on mole control
---
Professional Pest Control Service in Perth
Testimonials
Thank you for getting rid of my moles so quickly and professionally.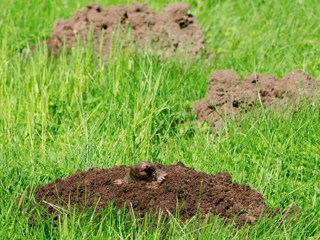 NEED EXPERT ADVICE AND PROFESSIONAL PEST CONTROL?
Call us on 01738 813751 or email us with the details for expert pest control advice.
You can also phone or text our emergency number 07767353535.
We're available 7 days a week.