WASP CONTROL & ERADICATION
Andy Law Pest Control provide professional wasps control, wasp removal and wasp nest eradication for both domestic and commercial customers. We guarantee we'll eradicate your wasp nest.
We use wasp control available only for professional use, have the right access equipment to reach wasp nests and are experienced in all wasp control methods. We do wasp control safely too, so children, pets and wildlife aren't harmed.
Do NOT try to investigate or treat a wasp nest yourself. Wasps are very aggressive and attack and sting repeatedly anything disturbing them or their wasp nest; you, people nearby and pets could get hurt. If you're not sure you've a wasp problem then maybe our guide to identifying yellow buzzing insects can help you.
We always recommend getting a professional wasp removal service; doing it yourself really isn't worth the risk.
If in doubt, ring or email us for professional wasp control advice on wasp removal, wasp nest eradication and getting rid of wasps. We've 30 years experience in pest control and provide free pest control surveys. And we're available 7 days a week. We really do know what we're doing; you can trust us to get it right.
There's more information below on pest wasps, wasp removal, wasp nest removal and our wasp nest eradication service.
Pest Wasps in Scotland
Pest wasps are 1-2cm long, bright yellow with dark markings, have a narrow 'wasp waist', build wasp nests with hundreds of wasps, are aggressive and will sting you repeatedly if you touch them. Common and German Wasps are the usual pest wasps needing wasp control in Perth and Kinross, Angus and Fife. Sometimes we find the smaller Tree Wasps, and Norwegian Wasps are dominant in northern Scotland. Giant Wood Wasps in Scotland look terrifying but are absolutely harmless! They're 5cm long, have a long tube at the rear, shiny black behind the head and bright orange/yellow and black bands on the body and legs. They lay eggs singly in freshly felled wood and adult wasps emerge 3 years later. They're often found coming from wood in newly built houses; we've seen these wasp problems in Kinross on a new housing estate. Solitary Wasps are bigger than normal wasps, less aggressive and don't live in hundreds in a wasp nest; one wasp makes a burrow in the ground, lays one egg in it and this produces another adult wasp. One of our customers gets these pest wasps in Crieff each summer; about 20 occupy the same earth banking.
Hornets are like a big wasps; yellow and brown, 2-3.5cm long and sting aggressively. They like forests and open countryside and need wasp control in Aberfeldy and Pitlochry where the hills and woods provide lots of places to live, but we've used our wasp control in Perth & Kinross, Angus and Fife for hornets.
The Asian Hornet; entered the UK in 2016. It is 2.5 to 3cm long, with a dark brown or black velvety body, yellow tipped legs and makes nests in trees and buildings. It hunts honey bees aggressively. Do not disturb an active nest. If you suspect you have found an Asian Hornet you should send a photo to alertnonnative@ceh.ac.uk
About wasp nests
A wasp nest is made from wood scrapings so it's an off-white colour and papery. A wasp nest starts off small, like a tennis ball, in the late spring or early summer, with the queen and a few worker wasps building it. In summer the wasp nest gets bigger, a rounded cone shape and is busier; maybe over 2 ft long with hundreds of wasps. In late summer, young queen wasps fly away from the wasp nest to find places to hibernate in. The wasps left in the wasp nest start to show erratic, aggressive behaviour and die off through the autumn, though we used wasp control in Perth in November last year to get rid of a wasp nest. Wasp nests are normally dead by the winter and the old wasp nest won't be active again. The next spring the hibernating young queens wake up and build brand new wasp nests of their own; the cycle starts all over again.
Where wasp nests are found
Wasps often build their nests in roofs and walls but they'll settle for anywhere that they think is suitable; high up, low down or in the ground. We've used wasp control in Perth for wasp nests in attics and under slates. A customer found a wasp nest in the BBQ that needed wasp control in Cupar. Wasp control in Dundee got rid of a wasp nest in the corner of a bathroom. There was a big wasp nest in a bush last year that needed wasp control in Kinross. And we found wasps nests on garden furniture at Coupar Angus, inside BBQ equipment at Newburgh, in a tree at Auchtermuchty and in a rockery in Pitlochry. And we used wasp control in Aberfeldy and Blairgowrie last summer for wasp nests in dog kennels; at least the dogs were pleased to see us – the wasps weren't.
Signs of a wasp nest
You might see a small or large, off-white papery cone; we found one attached to a window when we visited for wasp control in Dundee. If the wasp nest is hidden under slates or in a wall then you might spot wasps flying in and out of the wasp nest entrance, especially in warm, sunny weather when the wasps are more active; we counted 4 nests in the house roof by watching where the wasps were flying when we visited for wasp control in Blairgowrie. Or you might notice more wasps in some areas; wasps in the bathroom were straying from a nest in the attic that we removed using wasp control in Pitlochry. Sometimes you can hear noises behind a wall or ceiling made by wasps working in a nest on the other side. We've used wasp control in Dunkeld when a wasp nest came through the house wall and into a fitted wardrobe – not the outfit you'd expect to find in there.
Our wasp control and wasp nest eradication service
Do NOT try to investigate or treat a wasp nest yourself. Wasps are very aggressive and attack and sting repeatedly anything disturbing them or their wasp nest; you, people around you and pets could all get badly hurt. The stings are very painful and can kill people and pets quickly by causing swellings in the airways or anaphylactic shock. A pet rabbit once had an emergency visit to the vet because it got badly stung when its owner tried to use wasp control on a wasps nest in the garden. The rabbit survived but the wasp nest didn't, not after a visit from our wasp nest eradication service.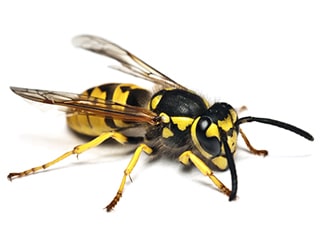 Testimonials
Many thanks for the quick response to our initial query and I can't speak highly enough of the help we received with our mice and wasps.
Can't thank Andy enough for the quick removal of the Wasp Nest at my house. Excellent service.
Prompt and efficient service ridding me of 2 very large wasp nests in half a day!
Thanks for your prompt and efficient removal of wasps nests from our attic. Highly professional and flawless service at all levels.
The wasps were dealt with on the same day as I called, fast and effective!
I don't like having to destroy wildlife but the wasps were eating the fabric of my shed where I practice yoga. Your guy came and dealt with it the day I called. Problem sorted so quickly and efficiently. Thank you!
Thank you for your prompt response . Your technician was quick, answered my queries , nest was away within an hour of contacting. Excellent service at a reasonable price.
I would like to commend your technician who dealt with the wasp nest. He was really very helpful, courteous and efficient.
Andy Law Pest Control answered the phone promptly when I called at 9am and the lady I spoke to on the telephone was reassuringly informed about wasps' nests. She arranged a call out for around 1pm the same day. I was able to pay over the phone which was also very helpful and the price was very reasonable. The problem was solved and the nests treated/removed by the end of the lunch hour. They provided the receipt by email, as they had promised. Excellent service.
Just to say thankyou so much for attending my property to deal with a wasp problem. Your service has been amazing from start to finish, from the loveliest lady who answered the telephone and your prompt attention to the problem to the billing at a very competitive price. I am greatly impressed and will have no hesitation recommending your service to anyone.
What a fantastic service.! We phoned this afternoon after discovering a wasps nest in the roof. Within a few minutes we had a phone call confirming someone would be with us that same afternoon. Mr Stewart from Andy Law Pest Control arrived within the next hour and dealt with the problem very efficiently.
What a helpful young man. Many thanks.
NEED EXPERT ADVICE AND PROFESSIONAL PEST CONTROL?
Call us on 01738 813751 or email us with the details for expert pest control advice.
You can also phone or text our emergency number 07767353535.
We're available 7 days a week.