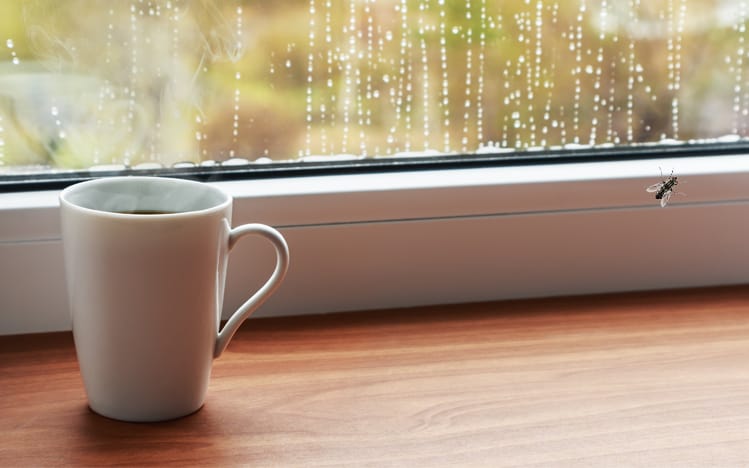 Fly pest control in Perth & Pitlochry to get rid of flies
Pest flies in the attic and flies at the windows that need fly pest control are being seen in Perth  & Kinoss and Pitlochry this week. They are hibernating flies called Cluster Flies, or Attic Flies. The flies move into buildings in the autumn and winter to hibernate there until spring. The temperatures have dropped sharply recently and the weather has been wet and this has forced more of these flies inside. The flies hide in the roof and attic, in gaps and cracks at window frames and inside vents.
If it a sunny day the flies wake up a bit and get more active. Some will crawl outside and you see flies sitting on the house walls and eaves outside. Some wake up and come inside the house and you'll see flies on window sill and at windows. They are very attracted to lights so you sometimes get flies at the lights inside and flies in downlighters.
Clusterflies are quite dozy because they are meant to be hibernating. They are not feeding or breeding at this time of year and they won't bite you. They can gather in hundreds or thousands though and so many of them are extremely unpleasant to have around. There a five different types of cluster flies; a hairy, black fly about the size of a blue bottle is common, there are ones that look like house flies and green clusterflies and smallyellow flies.  You can find the different types together and they are more common in rural areas.
Already this autumn we have used fly control to get rid of flies in Fife in a church roof. Flies at velux windows were treated with fly control in Cupar. We had to get rid of flies in Perth when 17 windows of one house had flies hibernating in them. Two attics that were infested with flies got fly control in Auchterarder. Pitlochry fly control to get rid of flies stopped flies coming through the downlights. The fly problems can cause a pest fly nuisance all the way through until May though.
We have several professional pest fly control methods to help get rid of flies: fumigation to get rid of flies, spray for flies, insecticidal dusts to kill flies. We do fly-proofing as well to keep flies out. The flies will cause different problems in different houses and buildings and so fly control treatments and timings will be different for different customers. Contact us for advice on flies and fly pest control and how to get rid of flies so that we can find the best solution for you.