Oh dear, have you found droppings? And, more to the point, what left them? Do you have vermin or a pest problem?
Sometimes it can be difficult to identify signs of pests and if you've actually got a pest problem or not. And then you have to decide if you need to do anything about it – and what to do. But don't let a pest problem get out of hand because it could damage your health, property or business.
If in doubt, ring or email us for professional pest control advice on how to identify pest droppings and pest problems and how to get rid of pests. We've 30 years experience in pest control and provide free pest control surveys. And we're available 7 days a week for advice and help. We really do know what we're doing; you can trust us to get it right.
There's more information below as well to help you identify pest problems.
Rat and mouse droppings are dark, cylindrical and 3-10mm long. Rats and mice like to live secluded places so you'll find their droppings in places like attics, under kitchen units and in garages. If the droppings are out in the open then that means you have vermin who've made themselves very much at home; they're very bold and have gone exploring for food. We needed rat control in Dundee for a customer who'd found droppings in the bread bin in the kitchen. And a lady needed rodent control in Pitlochry last autumn; she hadn't realised she had a mouse infestation until she found droppings in the fruit dish on the dining table. If you've got a lot of food outside, like compost bins and bird feeders, rats especially will be attracted. A customer needed rat control in Coupar Angus this winter after we'd helped her identify the droppings in her garden. We were called for rat control in Perth too but we identified the droppings as coming from a hedgehog; our customer was very relieved.
Rabbit droppings and hare droppings look alike but an expert can tell the difference. Both of these are sometimes wrongly identified as rat or squirrel droppings. We had a customer worried they needed rat control in Kinross because they'd found droppings in the back garden; they hadn't realised they had a hare visiting during the day.
Grey squirrels and stoats will leave droppings in or near buildings too. It's important to identify these because squirrels can cause a lot of damage once they're inside a roof space or garage, Squirrel droppings are round and bigger than mouse droppings but smaller than rats'. Stoat droppings are long and coiled. This spring we used squirrel control in Perth for a customer who had been puzzled by droppings in his attic. he's glad he asked for professional pest control advice before the pests started breeding. We regularly find stoat droppings in customers' attics when we're doing our routine pest control in Kinross and Auchtermuchty.
Bats leave droppings that look very like mouse droppings. Bats have an insect diet though, and so bat droppings are dry and very crumbly, unlike mouse droppings. A customer called us for mouse control in Perth because she'd found droppings in the loft, but we could reassure her that she did not have mice, just harmless bats.
Insect pests like pest moths will leave specks of tiny droppings and mess in biscuits, pasta and other stored foods. A customer needed insect control in Perth when she found a bag of spoiled oats; we identified and treated the moth infestation quickly for her. And we were called in for pest control in Cupar by a customer who was scared stiff by the thought of what might be leaving the massive droppings he'd found in his garden – it turned out to be fox that had eaten far too many windfall apples!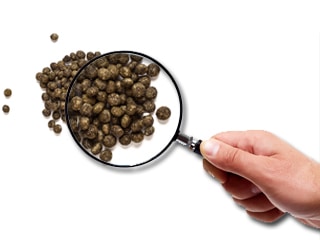 NEED EXPERT ADVICE AND PROFESSIONAL PEST CONTROL?
Call us on 01738 813751 or email us with the details for expert pest control advice.
You can also phone or text our emergency number 07767353535.
We're available 7 days a week.