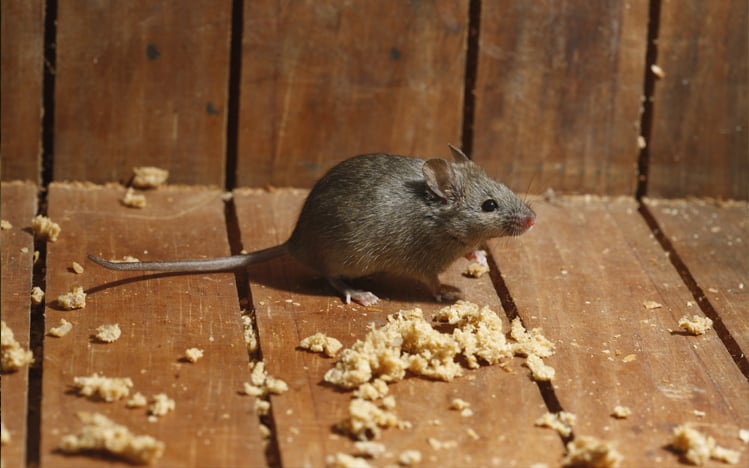 Mouse control Perth & Kinross to get rid of mice has been in demand this summer
Mice do not like wet weather and the wash-out summer forced them to move indoors for shelter. Now autumn is here, and the weather is getting colder, even more mice are moving in to houses and buildings, causing a mouse infestation in the house and mice in sheds, garages and buildings.
What are signs of mice in the house?
Mice cause noises in the walls and roof when they climb and crawl around. Noises in the walls and roof at night especially are heard because mice are nocturnal, though you can still hear these noises  in the attic and walls in the daytime.
Chewings and damage are caused by mice because they nibble everything they find. Mice chewed through a washing machine hose, flooding the kitchen and needing to get rid of mice Perth & Kinross.  Alarm cables chewed by mice needed Dundee rodent control to get rid of mice. We have done rodent control to get rid of mice Pitlochry for cushions eaten by mice in a holiday let and to get rid of mice Cupar when they ate Christmas presents hidden in the attic.
Maybe you will find mouse droppings. What do mouse droppings look like? They are dark, 3mm to 1cm long and slender in shape, a bit like rice. Normally you find these in more hidden places like in the attic. We have just had to get rid of mice Dunfermline though when mouse droppings were scattered over the floors and furniture – that was a bad infestation of mice in the house.
Perhaps you have caught vermin in a trap? If the tail is longer than the body then it is a mouse. Maybe you will see a mouse inside, but that does not happen very often because they run away so quickly.  Mice cause bad smells too. You could get a mousy smell from their urine or a pungent, musty bad smell of a dead mouse.
However, the commonest sign of mice in the house are noises in the walls and roof. You do not have to find mouse droppings or see a mouse, the noises are enough of a sign of a mouse infestation. Do not ignore the noises, or hope they go away. Mice can cause a lot of damage and it is best to get professional mouse pest control to get rid of mice before mice cause mouse damage to pipes, cables and belongings. Contact us for advice and for vermin pest control.