RABBIT CONTROL & RABBIT PROOFING
Andy Law Pest Control provide expert rabbit control and rabbit proofing for both domestic and commercial customers and we're happy to deal with small and large problems.
We combine our traditional, country skills with more modern methods of rabbit control, then we add this to our years of experience of rabbit behaviour to give you effective rabbit control solutions.
And we have specialist skills in rabbit control and rabbit proofing over large areas as well as in gardens, and in and around buildings, so we can offer you all the options for rabbit control. Animal Welfare is important in rabbit control too. We have years of experience and backgrounds in veterinary science and game-keeping; you can trust us to do rabbit control humanely, safely and legally.
Rabbits damage plantings, undermine bankings and damage ground in paddocks & fields; don't let your rabbit problem get out of hand. If in doubt, ring or email us for professional pest control advice on how to control rabbits and get rid of rabbits.
We've 30 years experience in pest control and provide surveys. And we're available 7 days a week for advice and help. We really do know what we're doing; you can trust us to get it right.
There's more information below as well about our professional rabbit control and rabbit proofing service.
Why rabbit pest control and rabbit proofing is needed
Rabbits play a part in the balance of our ecosystem, but too many of them will upset that balance. They decimate gardens, ruin crops and wipe out tree plantations by chewing the bark. Rabbit burrows and warrens undermine and collapse bankings and cause accidents in fields. Their scraping ruins lawns and pitches. A rabbit's legendary breeding cycle means that a rabbit problem can escalate out of control very quickly. One pair of rabbits can produce 25 baby rabbits in one summer; these young ones mature and produce even more baby rabbits in the same year; that's an awful lot of rabbits to control.
Some examples of rabbit problems we have dealt with using rabbit control and rabbit proofing
Some customers thought that they'd never get their rabbit problem under control. We proved them wrong by finding the right rabbit control programme and rabbit proofing for their particular problem. We have a wide range of customers who had plants, crops, gardens, grounds, playing fields, paddocks and farmland badly damaged by pest rabbits.
We've used rabbit control at Forfar to stop river banks becoming badly undermined by rabbit warrens. Rabbits breeding under the caravans in holiday parks were cleared using rabbit control in Aberfeldy. Householders needed rabbit control in Perth to get rid of rabbits living under the decking and garden sheds in a new housing estate, and we found exactly the same problem needing rabbit control in Kinross. An equestrian centre needed rabbit control in Pitlochry to stop horses hurting themselves in burrows in a paddock. We've protected tree pantings using rabbit control in Crieff. Warrens in farmland were cleared using rabbit control at Blairgowrie and Coupar Angus. We've cleared rabbits from industrial grounds using rabbit control in Glenrothes. School playing fields were rescued with rabbit control in Stirling, And Groundsmen at hotels and golf courses from the Highlands to St Andrews have used our rabbit control too.
Animal welfare in rabbit pest control
Customers are concerned about welfare in rabbit control. With our backgrounds in veterinary science and game-keeping, we take animal welfare very seriously, understand the laws that govern it and keep up-to-date with new developments. We're also very skilled in rabbit control work, with years of experience in the correct methods. We've never upset a customer or affected a client's reputation by poor control practice. Rabbit control might not be something you want to do yourself but you can trust us to do rabbit control humanely, safely and legally for you.
Some rabbit control methods that we use
Gun and dog. Ferrets. Purse nets, Gate nets and Long nets. Cage traps and Box traps. Aluminium Phosphide poison gas. Rabbit proofing and rabbit fencing.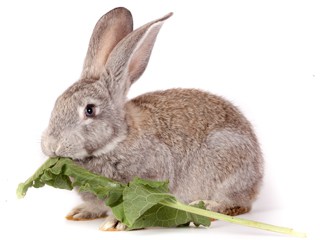 NEED EXPERT ADVICE AND PROFESSIONAL PEST CONTROL?
Call us on 01738 813751 or email us with the details for expert pest control advice.
You can also phone or text our emergency number 07767353535.
We're available 7 days a week.