Can you smell a strange smell? Are you worried what's causing it? Do you have vermin or a pest problem?
Sometimes it can be difficult to identify signs of pests and decide if you've actually got a pest problem or not. And then you have to decide if you need to do anything about it – and what to do. But don't let a pest problem get out of hand because it could damage your health, property or business.
If in doubt, ring or email us for professional pest control advice on how to identify pest problems and pest infestations and how to get rid of pests.
We've 30 years experience in pest control, provide free pest control surveys and free insect identification for problem insects.
And we're available 7 days a week for advice and help. We really do know what we're doing; you can trust us to get it right.
There's more information below as well to help you identify strange smells.
Rats and mice are the cause of a lot of strange smells. A very common problem is a smell like a blocked drain; this could be a dead rat or mouse from a rodent vermin infestation in the building or nearby. We used rat control in Pitlochry for a shop that stank like a sewer; we found dead rats under the floor. Rodent vermin dribble urine wherever they go and you'll notice this smell around vermin infestations; look carefully and maybe you'll find their droppings too. This smell can be very strong when the infestation is well established; we've used mouse control in Forfar when we found this smell in a grain dryer.
Birds, their nests and droppings can really pong. We investigated a musty smell upstairs and used bird control in Perth for a shop owner with pigeons in the roof. And we've cleared smelly dead birds out of chimneys using bird control in Cupar. Dead squirrels are sometimes the cause; we've used squirrel control in Blairgowrie when we investigated a strange smell and found these in the house roof and in the water tank. Taints and strange smells in food can be caused by insect infestations or mite infestations. We've used cockroach control in Perth to get rid of cockroaches infesting stored foods; these insects have a very characteristic smell that taints food. And you can smell the 'mintiness' of food with a flour mite infestation; we recently used this mite control in Perth in a dry goods store.
Very heavy bedbug infestations smell of almonds; let's hope you haven't got that strange smell. And there are strange smells found outside too. We've investigated a smell like this for a food business and used feral cat control in Perth to catch and re-home the cats that were spraying around a warehouse. Fox urine's got a really pungent smell too; you'd certainly remember it!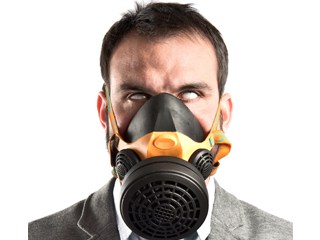 NEED EXPERT ADVICE AND PROFESSIONAL PEST CONTROL?
Call us on 01738 813751 or email us with the details for expert pest control advice.
You can also phone or text our emergency number 07767353535.
We're available 7 days a week.