Andy Law Pest Control provide professional fly control for both domestic and commercial customers and we're happy to deal with small and large scale problems.
We use fly control preparations available only for professional use and are experienced in the full range of fly control methods. We carry out fly control safely too, so food, children, pets and wildlife aren't harmed.
And we've got the experience to deal with a range of fly problems; from industrial units and food businesses to front porches and attics of houses.
It's important to identify the pest flies correctly so that the right fly control is used. Otherwise the problem could get out of hand and become an infestation; unpleasant, unhealthy and especially bad for businesses and food premises.
If in doubt, ring or email us for professional pest control advice on how to identify pest flies and control fly infestations and how to get rid of flies.
We've 30 years experience in pest control, provide free pest control surveys and free insect identification for problem insects. And we're available 7 days a week for advice and help. We really do know what we're doing; you can trust us to get it right.
There's more information below on pest flies, our fly prevention and fly control service.
Types of pest fly
Fly control is needed to stop pest flies contaminating food, biting animals and man, spreading disease and infesting buildings, contents, farms and rubbish sites. House Flies buzz around in mid-air, leave fly dirt 'spots' and spread disease. Blowflies, Bluebottles, Greenbottles & Flesh Flies spoil meat and food with maggots. Cluster Flies move into buildings in autumn to hibernate. Fruit Flies are small flies that breed in rotten fruit, vegetables, beer, sour milk, vinegar and are a pest in food premises and bars. Stable Flies bite horses, farm animals and man for blood. Sewage & Phorid Flies are small and breed in sewage farms, blocked drains and damp organic matter. Horse Flies come from marshy areas, the females have painful bites and suck blood from animals and man. Mosquitoes, Gnats & Midges breed in stagnant water and bite to feed on blood.
Pest fly infestations
Cluster Flies or Attic Flies are a problem in autumn for both domestic and commercial customers, moving inside to hibernate until spring, especially in roofs and around window frames. There are 5 types, small and large ones; the most horrible is hairy and nearly as big as a blue bottle. Hibernation makes them dozy; they're sluggish, tumble around and fly clumsily when disturbed. They do this too when they're warmed up by heating or by sun on a window. They're really unpleasant; they catch in your hair in the attic, fall out of windows when they're opened, buzz clumsily around lights, won't move off desks, land on counters infront of customers, sit on ceilings. They gather in hundreds and they seem to return to the same places year after year. Every autumn we use fly control in Crieff for cluster flies that gather in the roof of a workshop.
Other pest problems and poor hygiene often cause fly infestations and fly problems. Blue-bottles soon find dead rodents in buildings and then breed in them, causing an fly infestation; we used fly control in Perth to treat this pest problem in a clothes shop last spring. Dead birds stuck in chimneys breed these blue bottles too; we had a call out for fly control in Coupar Angus for a house that was literally buzzing with them. House flies breed in domestic rubbish and animal waste. We used fly control in Auchterarder in a flat that was infested by flies coming from pest pigeons nesting in the roof, and we got rid of the bird problem to stop it happening again. Sewage Flies breed in faulty drains. We've used fly control at Kinross for a customer whose house was filled with these flies from a faulty waste disposal system. We soon had the fly infestation under control and the house fumigated and clean again. Fruit Flies are a real nuisance in pubs, breeding in hard to clean places in the bar areas. We used a range of professional treatments for fly control in Cupar for a hotel bothered by these to get rid of the infestation.
Food Businesses need fly control
Flies are a risk to Food businesses because of laws such as The Food Hygiene Regulations and The Food Safety Act. These say that food and drink must be fit for human consumption and not contaminated by flies; also that flies must be kept out of the premises in the first place. Breaking the law can mean heavy fines, lost reputation and closure. It's best to have fly control under a professional pest control contract to satisfy the law, Environmental Health and Auditors. Contract prevention and control of flies is also very cost effective and efficient too, far better than waiting until there's an infestation. Contract pest control for flies is suitable for small take-aways through to large hotels; we provide food businesses with contract pest control in Dundee and other towns and cities in the area we serve.
Fly control methods
Electric Fly Killers and Traps; they need the right power,maintenance and positioning to work properly. Fly screens and curtains. Insecticides, Fumigation and Fly traps. Insecticide mixtures for farms and rubbish sites. Environment & hygiene management.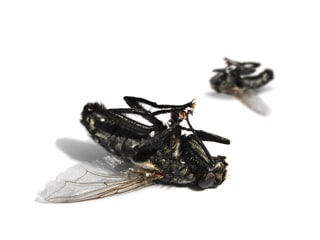 NEED EXPERT ADVICE AND PROFESSIONAL PEST CONTROL?
Call us on 01738 813751 or email us with the details for expert pest control advice.
You can also phone or text our emergency number 07767353535.
We're available 7 days a week.