FLIES IN THE ROOF & AROUND THE WINDOWS
Flies in the attic and around the windows. Are you seeing flies at the windows, on the walls or in the roof? Are you surprised, especially since the weather is getting cooler?
Sometimes it can be difficult to decide if you've actually got a pest problem or not. And then you have to decide if you need to do anything about it – and what to do. It's important to identify the pest flies correctly so that the proper fly control is used.
If the fly control is wrong then the fly problem could get out of hand; unpleasant and unhealthy and especially bad for businesses and food premises.
If in doubt, ring or email us for professional pest control advice on how to identify pest flies and control fly infestations and how to get rid of flies.
We've 30 years experience in pest control, provide free pest control surveys and free insect identification for problem insects. And we're available 7 days a week for advice and help. We really do know what we're doing; you can trust us to get it right.
There's more information below as well to help you identify pest problems.
Flies that gather in roofs, around windows and on walls inside in the autumn and winter are called Cluster Flies, also known as Attic Flies.  These are not the same as the blue bottles that buzz hard against the windows in the warmer weather, or the house flies and smaller flies that are active in summer too.
Cluster flies cause a nuisance by moving in to roof spaces and cracks and crevices around windows in autumn and hibernating there until until spring.
If you have cluster flies you might see different types; small,  large, green, yellow, ones that look like a house fly, long legged flies. The most horrible cluster fly is nearly as big as a blue bottle and hairy.
Sometimes you'll see the different types mixed together, sometimes just one type.
There are normally a lot gathered together too, sometimes thousands. And you might find that you get the problem year after year because the flies are attracted to the same places for each hibernation.
Their hibernation makes the Cluster Flies slow and dozy so when they are disturbed they move slowly, tumble around and fly clumsily. They do this too when they are warmed up by central heating in a room or sun on a window. This is what makes them so unpleasant. For example, they will get caught in your hair if you go in to the attic, fall out of windows when you open them and then stay sitting on beds or furniture, buzz clumsily around bedside lights, fall onto office desks and shop counters and won't move away, gather on walls in shops and offices.
You can get cluster flies pretty much anywhere. We've used fly control in Perth for cluster flies identified in the roof of an industrial unit, fly control in Pitlochry for a clusterfly infestation around windows of a hotel and fly control in Kinross for an infestation in a high, glass dome in a roof.
It is important to identify the flies correctly. We've helped a customer needing fly control in Cupar; we identified a pest fly problem in their restaurant that was not a cluster fly infestation and made sure that they got the right pest control treatment to clear the problem and avoid contamination of the food.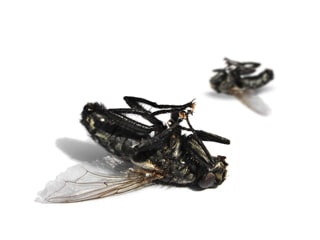 NEED EXPERT ADVICE AND PROFESSIONAL PEST CONTROL?
Call us on 01738 813751 or email us with the details for expert pest control advice.
You can also phone or text our emergency number 07767353535.
We're available 7 days a week.