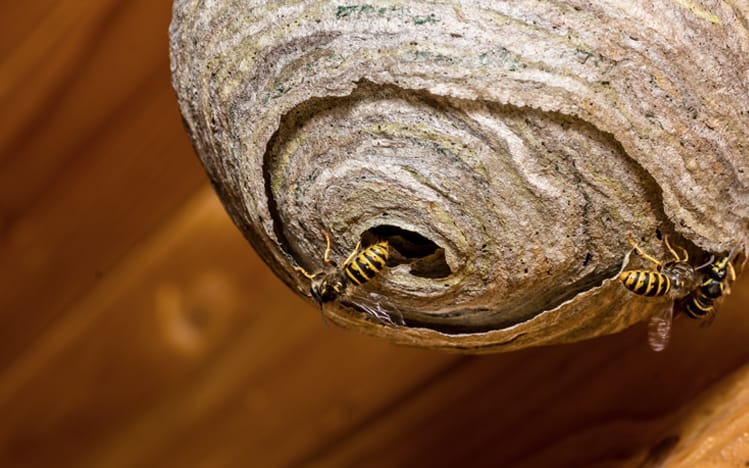 The Construction Of A Wasp Nest
1. The queen wasp scrapes dead wood from things like sheds and fences, then mashes it into a wet paper pulp which she moulds into a wasp nest. Firstly, she makes at attachment point to fix the nest in place; then she creates a fine layer in a ball shape with one opening at the opposite end from the attachment point. The nest is golf-ball sized at this stage. On the video you can see the wet pulp that the queen wasp is moulding into shape; because it is wet it is darker than the rest of the nest.
2. Once the queen wasp has made the golf-ball sized centre of the nest, she adds an extra layer around it.
3. This is a lot of work for one wasp to do so it is a slow process, but eventually the nest becomes egg-sized. By now, the queen has laid eggs inside the nest and will feed them until they develop into worker wasps. At this stage though, the queen wasp still does not have any worker wasps to help her build the nest.
4. Once the worker wasps have developed then they take over the building of the nest; there are 3 workers seen building the nest in this video. The queen wasp stays inside the nest now and continues to lay eggs, producing more and more worker wasps through the summer.
5. You can see in this picture that the wasp nest is getting bigger more quickly now; this is because there are several worker wasps building it, rather than just the queen wasp.
6. As more worker wasps develop then more building of the nest is done, with layer after layer being added. The wasp nests can get pretty big; the largest we have found was in an attic and was 1.5mt across at its widest, which is an awful lot of wasps!
7. What does a wasp nest look like and how do you spot them? This picture shows the beautifully constructed layers of the wasp nest. The hole in the end of the nest remains there and is the only entry point to the nest. The different colours of the wood pulp in the layers comes from the colour of the wood that the wasps scrape to make the wood pulp; in this case it was green and brown stained wood and unstained wood. Generally wasp nests are predominantly a grey/white colour. It isn't always possible to see the actual nest though if it is hidden under roof slates or in the eaves for example. In these cases, all you will see is wasps going into and out of the nest; you will see this best as the number of wasps in the nest increases and especially on sunny days as the sun's warmth increases the activity rate of the wasps.