Andy Law Pest Control provide professional rat control and prevention of rat infestations. We get rid of rats for domestic, commercial and agricultural customers and we're happy to treat small or large scale rat problems in Perth.
We use rat pest control rodenticides available only for professional use and are skilled in the full range of rat control methods.
We get rid of rats safely too, so no harm is done to children, pets or livestock or wildlife. We're Wildlife Aware Accredited, specially trained in protecting the environment and wildlife when we use poisons outdoors. And we've got the experience to deal with rat infestations in Perth wherever they are; houses, gardens, food premises, businesses, steadings and livestock housing.
Don't let a rat problem get out of hand; it could harm your health, damage your property and ruin your business. If in doubt, ring or email us for professional pest rat pest control, advice on pest proofing and how to get rid of rats. We've 30 years' experience in rat pest control and can provide free pest control surveys. And we're available 7 days a week for advice and help. We really do know what we're doing; you can trust us to get it right.
Rat infestations
The commonest pest rat in Perth is the brown rat, also called the Norway or sewer rat; it's a grey/brown colour and is much larger than a mouse, weighing about 0.5kg. Rats are very good at digging, they can climb, especially up a rough surface, and they can jump pretty high as well. All this means that they can infest gardens, grounds and buildings easily. They're especially attracted to animals and animal feed, so they are often found on farms and around hen runs. They like to live near water, such as rivers and blocked drains. And they are always looking for shelter to hide under, setting up home under garden sheds and decking, especially in the bad autumn and winter weather.
If you have a rat infestation you might notice some of these signs; dark, cylindrical droppings about 1cm long, badly chewed and damaged objects, stolen food, offensive odours caused by rat contamination or the stink of a dead rat. You might hear loud noises in walls and roofs and see rat burrows and rat runs outside too.
Rats are called rodent vermin because they gnaw everything they find and can cause an awful lot of damage. They also carry a lot of nasty diseases that are very harmful to animals and humans, especially in the urine that they dribble wherever they go. A rat infestation is a serious risk for any householder, business or food premises in Perth and it is recommended to get rid of rats a soon as possible. You can find more information on our rat control Perth service here.
Click here for more information on rat control
---
Professional Pest Control Service in Perth
Testimonials
We would like to thank you for your prompt and professional response and for working so hard to eradicate our rat problem which we thought we would never gt rid of.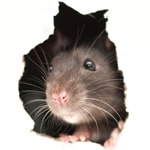 NEED EXPERT ADVICE AND PROFESSIONAL PEST CONTROL?
Call us on 01738 813751 or email us with the details for expert pest control advice.
You can also phone or text our emergency number 07767353535.
We're available 7 days a week.