Andy Law Pest Control provide professional wasp control, wasp removal and wasp nest eradication in Fife for both domestic and commercial customers.
We guarantee we'll eradicate your wasp nest. We use wasp control preparations that are extremely effective and are available only for professional use. These preparations contain strong insecticides and we're trained and skilled in making sure that it is only the wasps that are affected by them,  not wildlife or animals.
Wasps often build their wasp nests in high-up parts of a roof or in other places that are hard to reach, but we've got all the right access equipment and application equipment for wasp nest eradication in tricky situations like this.
Also we've years of experience in all wasp control methods and have  the correct, protective clothing so we can provide quick and efficient wasp nest eradication and wasp nest removal.
And we do all our wasp control safely, so people, property, children and pets aren't harmed.
It is normally best NOT to try and investigate or treat a wasp nest yourself. This is because wasps are very aggressive and will attack and sting repeatedly anything disturbing them or the wasp nest; you, people nearby and pets could get hurt. We always recommend getting a professional wasp removal service; doing it yourself really isn't worth the risk.
It isn't always possible to see the actual wasp nest, it could be hidden under roof slates or behind a window frame. There are several insects that look like pest wasps too, such as honey bees, hover flies and wood wasps. It isn't always easy to tell the difference between them, especially from a distance. So, if you're not sure whether you need wasps control or not, then maybe reading our guide to identifying yellow buzzing insects will help, instead of getting up-close and personal with hundreds of angry insects.
If in doubt, please ring or email  for professional wasp control advice on Fife wasp removal, wasp nest eradication and getting rid of wasps. One quick phone call could get your wasp problem sorted out. We've 30 years' experience in pest control and provide free pest control surveys. And we're available 7 days a week. We really do know what we're doing; you can trust us to get it right.
Click here for more information on wasp control
---
Professional Pest Control Service in Fife
Testimonials
Many thanks for the quick response to our initial query and I can't speak highly enough of the help we received with our mice and wasps.
Can't thank Andy enough for the quick removal of the Wasp Nest at my house. Excellent service.
Prompt and efficient service ridding me of 2 very large wasp nests in half a day!
Thanks for your prompt and efficient removal of wasps nests from our attic. Highly professional and flawless service at all levels.
The wasps were dealt with on the same day as I called, fast and effective!
I don't like having to destroy wildlife but the wasps were eating the fabric of my shed where I practice yoga. Your guy came and dealt with it the day I called. Problem sorted so quickly and efficiently. Thank you!
Thank you for your prompt response . Your technician was quick, answered my queries , nest was away within an hour of contacting. Excellent service at a reasonable price.
I would like to commend your technician who dealt with the wasp nest. He was really very helpful, courteous and efficient.
Andy Law Pest Control answered the phone promptly when I called at 9am and the lady I spoke to on the telephone was reassuringly informed about wasps' nests. She arranged a call out for around 1pm the same day. I was able to pay over the phone which was also very helpful and the price was very reasonable. The problem was solved and the nests treated/removed by the end of the lunch hour. They provided the receipt by email, as they had promised. Excellent service.
Just to say thankyou so much for attending my property to deal with a wasp problem. Your service has been amazing from start to finish, from the loveliest lady who answered the telephone and your prompt attention to the problem to the billing at a very competitive price. I am greatly impressed and will have no hesitation recommending your service to anyone.
What a fantastic service.! We phoned this afternoon after discovering a wasps nest in the roof. Within a few minutes we had a phone call confirming someone would be with us that same afternoon. Mr Stewart from Andy Law Pest Control arrived within the next hour and dealt with the problem very efficiently.
What a helpful young man. Many thanks.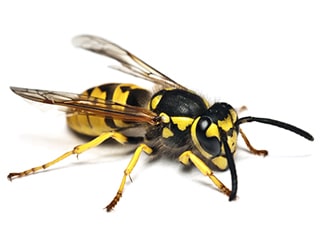 NEED EXPERT ADVICE AND PROFESSIONAL PEST CONTROL?
Call us on 01738 813751 or email us with the details for expert pest control advice.
You can also phone or text our emergency number 07767353535.
We're available 7 days a week.