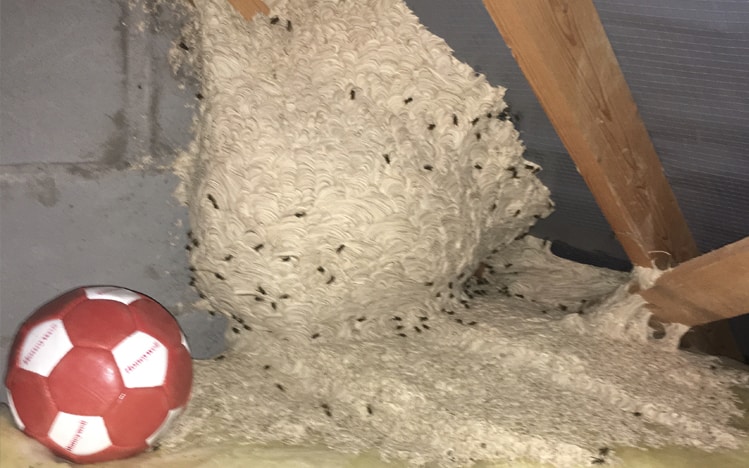 Wasp control and getting rid of wasp nests
Wasp control and getting rid of wasp nests is keeping us very busy at the moment because wasp nests are reaching their biggest size in July and August: see just how large the wasp nest in the attic in the picture is!
Not all wasp nests can be seen like the one in the picture. Wasp nests in the eaves, wall, vent or roof or wasp nests in the ground will be hidden away. If you see wasps going in and out at one particular place then this is the entrance to a wasp nest, hidden away inside where the wasps are going. Sometimes you will see a bit of pale, papery wasp nest poking out from the roof or the eaves or the wall but this is not just a small nest – instead it is part of a hidden, bigger nest that is expanding out of the space that it was built in originally.
It doesn't matter where the wasp nest is located though, or if you can see it or not. All wasp nests will contain an awful lot of wasps now, all very aggressive and ready to attack and sting you multiple times if you go near the nest. Please do not try and treat a wasp nest yourself because you could get hurt badly.
We cover all areas so if you need wasp control in Perth, wasp control in Kinross, wasp control in Dundee, wasp control in Pitlochry, wasp control in Cupar, wasp control in Auchterarder or wasp control in Dunfermline then we can visit and do wasp nest eradication and wasp nest removal for you. And we have all the right PPE, application equipment and access equipment for wasp pest control to reach wasp nests in hard to reach places or wasp nests that are hidden away. All works are done professionally and safely and you can contact us 7 days a week for wasp control, eradication guaranteed.