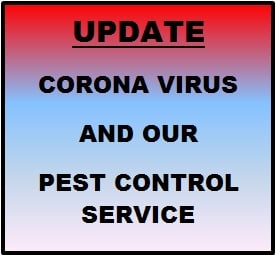 Our professional pest control service and Corona virus
Every business and individual is being affected by the rapid developments in the Corona virus situation and the national controls in place.
As well as abiding by the national control measures,  we have put in place strict disease control protocols for staff working and for when entering premises.
We will update our protocols as the national situation changes.
We are fully supplied with protective gloves and masks.
We also hold a full stock of disinfectant spray and fumigation that will kill the virus.
A lot of our pest control work is done outside; for example, getting rid of a wasp nest or bee nest in the roof, proofing solar panels, bird proofing, rat and mole pest control.
If entry inside the premises is needed for a pest problem that must be attended to then there is the risk of spread of disease, both to you and our staff
However, we are equipped with masks, gloves and disinfectants to control the risks and can plan the works to minimise risks.
We are also able to provide spray and fumigation cleans for the virus.
If you are worried about a pest problem inside that needs attending to then please call us to discuss your particular circumstances and to see how we can help.
To date none of our staff have been affected by the virus, but it's probably only a matter of time that we will find ourselves stretched at times with staff being away so we hope you understand that your call might take longer to be answered or we won't be able to make a visit as quickly as usual.