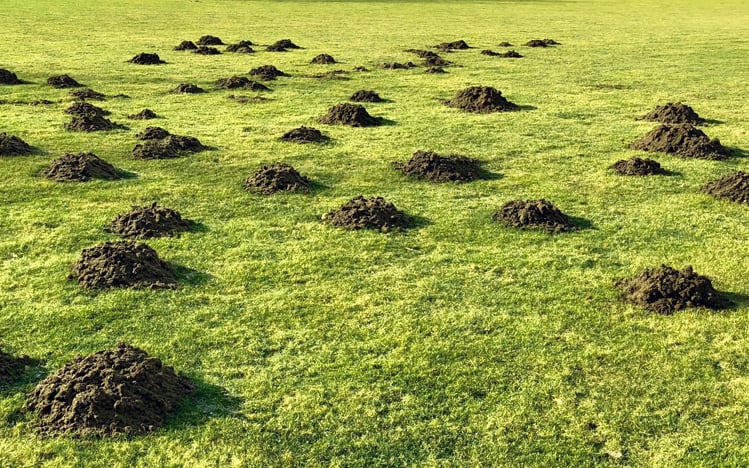 Mole control and mole control in lawns
Mole control and mole control in lawns is a specialist area of pest control. Customers often tell us they have tried mole pest control themselves, either with mole traps or with a variety of methods they have found on the internet. They will have had one molehill, then a couple more, and then, suddenly, a whole lot of molehills appear, and they contact us in despair for Perth & Kinross mole control. Gardeners, farmers, grounds-men and green-keepers alike, they ring us and ask, 'How can I get rid of moles?'.
Mole pest removal by trapping moles is a traditional country skill and one that we know a lot about with our many years' experience.  We use a variety of well-made, good quality mole traps as well so that we achieve very good mole catch and clearance rates: poor quality equipment only produces poor quality mole control.  Our Dundee mole control service and Fife and Cupar mole control catch hundreds of moles every year.
We do mole control by gassing moles too, especially for emergency mole control on golf courses and playing fields, and it works well in problem spots as well. The gas is poisonous and can only be bought, stored and used for mole control by trained professionals such as ourselves.
Moles are present all year round, but they start to dig up mole hills from the autumn onwards and will carry on doing this all through winter until April. If you have molehills starting to appear now  then it is an early warning sign that moles are present and the mole problem could get worse – and pretty quickly! It is best to get professional Pitlochry mole pest control now to nip the problem in the bud and to keep the mole control in place throughout the winter and early spring to keep mole problems and molehills to a minimum.
We get rid of moles in gardens, playing fields, golf courses and agricultural land, and we treat mole infestations over small and large areas. We can use all the mole controI methods that might be needed, and we use them safely and humanely too. We can give a quote for mole control on the telephone or do a free survey for a quote for moles for you too, especially for larger areas for mole control in fields and golf courses. Get in touch for professional mole control, mole control n lawns and mole pest control.