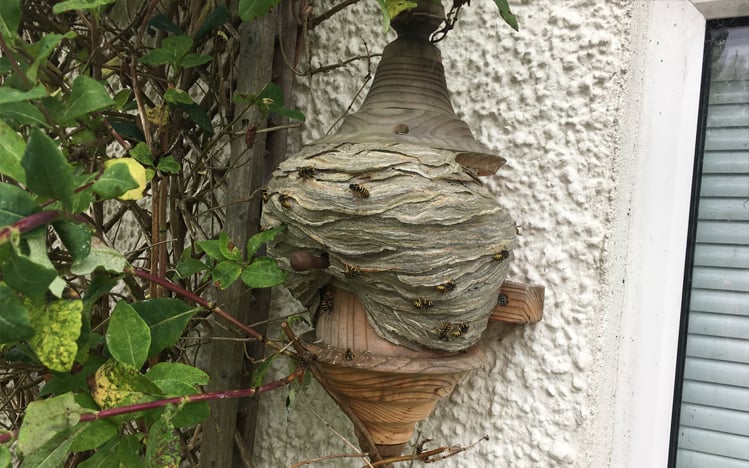 Wasps control, wasp removal and wasp nest eradication
Wasp control in Perth is needed at this time of year because wasp nests are starting to get quite large now. The wasp nest in Perth in the picture was started inside a bird box, but you can hardly see the bird box anymore because the wasp nest has expanded through the hole and is covering it.
Wasps will build their nests just about anywhere. We've done wasp nest removal in Dundee from sheds, wasp nest eradication in Pitlochry in roofs, wasp control in Dunfermline under decking, wasp nest removal in Glenrothes from bushes, wasp nest eradication in Kinross in the ground. The most unusual wasp nest removal in Perth we have done so far this summer was for a wasp nest in a football. And we did wasp nest removal in Kinross when a very cheeky wasp built a wasp nest on a bedroom curtain: not an ideal house guest!
We provide professional wasps control, wasp removal and wasp nest eradication; our wasp nest eradication is guaranteed.
We use wasp control available only for professional use and have experience in all wasp control methods. If your wasp nest is high up or in a difficult to reach place then we can help you – we have the right access equipment to reach wasp nests We do wasp control safely too, so no harm is done to children, pets, bee hives and wildlife.
It is NOT safe to investigate or treat a wasp nest yourself because wasps are extremely aggressive. They'll attack and sting repeatedly anything disturbing them or their wasp nest; you, people nearby and pets could get hurt. If you want to make sure you've got a wasp problem then maybe our guide to identifying yellow buzzing insects can help you.
We always recommend getting a professional wasp removal service; doing it yourself really isn't worth the risk. If in doubt, ring or email us for professional wasp control advice on wasp removal, wasp nest eradication and getting rid of wasps in Perth, Kinross, Dundee, Dunfermline, Glenrothes and Pitlochry.