DUNDEE SOLAR PANEL BIRD PROOFING
Andy Law Pest Control install professional and effective solar panel bird proofing in Dundee.
We're happy to install solar panel bird protection on both small and large scale solar panels.
We use solar panel bird proofing that is designed for solar panels specifically and which is a permanent and professional solution to stop birds nesting under solar panels. We get rid of birds at the solar panels too and because we know all the Animal Welfare legislation it is done legally and humanely. We remove birds' mess from gutters and solar panels too.
And we've got the experience to install the solar panel bird proofing safely so the panels aren't damaged.
We recommend that you stop birds nesting under solar panels: don't let the problem get out of hand. The birds produce a lot of mess under solar panels which accumulates quickly, damaging the roof and gutters. And just a couple of birds can multiply to become many more over a short period, making the problem worse. If you've got birds at your solar panels then ring or email us for professional pest control advice about solar panel bird exclusion and how much it costs to bird proof and pigeon proof solar panels.
We've 30 years' experience in pest control and provide free solar panel bird proofing surveys. And we're available 7 days a week for help and advice. We really do know what we're doing: you can trust us to get it right.
There's more information below about solar panel bird proofing.
Which birds nest under solar panels and why
Dundee has plenty of pest pigeons and unfortunately these are the birds most likely to live under solar panels. They find a secure roosting and nesting area underneath the solar panels, safe from predators and bad weather. And they love the view from roofs: all the better to survey their territory. All in all, a dream come true for the pigeons at the solar panels but a nightmare for you.
Problems caused by bird nesting under solar panels
The birds themselves are annoying enough, hanging around the roof and property.
They're noisy too, especially when they're up first thing in the morning but you are not!
Then there are their droppings: big deposits of brown, oozing filth that make lots of mess on paths and patios around the house and on the glass of sunrooms and conservatories. The mess is carried from under the solar panels and down the roof by rain and blocks up gutters and downpipes, causing wet patches on the outside walls and roof damage.
And all the rest of the mess - feathers, egg shells, dead chicks and dead adult birds - that pigeons produce. This blocks gutters and downpipes too.
And more! Pigeon filth and debris can carry nasty diseases and breed insects that could get into the house.
To cap it all, pigeons hatched under the solar panels will stay to nest there too, and other pigeons nearby will find out about through word-of-beak about the lovely solar panels and come along to join the colony. That's why just two pigeons can turn into many more in maybe one summer and how the problem gets out of hand.
Our professional, solar panel bird proofing service in Dundee
We use professional solar panel bird proofing designed for solar panel bird protection especially. No drilling or damage is done when we fit the solar panel bird exclusion.
The solar panel bird proofing is a permanent installation, long-lasting as opposed to some solar panel bird proofing kits which come loose and let pigeons back in, sometimes within one year.
And it is effective. Some customers who contact us have already had a solar panel bird exclusion kit fitted in Dundee, but still have pigeons roosting and nesting and are desperate to stop the problem. We can offer professional help in these cases - we get rid of the pigeons and mess, fit our effective solar panel bird proofing and take away the faulty bird exclusion kit.
Also, our solar panel bird proofing will stop all birds nesting under solar panels, not just pigeons.
How much does it cost to pigeon proof solar panels?
Each set of solar panels varies: the height and position of the building and the layout of the solar panels are the main factors. Also, there could be a lot of bird mess or perhaps just a little to clear. This means that each installation is individually priced and the fee will vary from property to property.
We can do a free visit to survey the problem. Then we provide a written, fixed-price quotation with no obligation.
And if you need pigeon mess cleared out from gutters  then we can provide a quote for this too, and for cleaning bird mess off house walls.
We really do know what we're doing: you can trust us to get it right.
---
Professional Pest Control Service in Dundee
Testimonials
Helpful friendly over the phone and when visiting. Very reasonably priced and knowledgeable. Discreet bird proofing and fitted in good time to prevent nesting this year. Would definitely recommend.
Thank you for a very prompt and efficient service. I would recommend your services without reservation.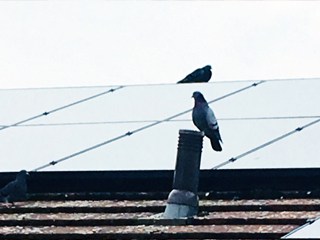 NEED EXPERT ADVICE AND PROFESSIONAL PEST CONTROL?
Call us on 01738 813751 or email us with the details for expert pest control advice.
You can also phone or text our emergency number 07767353535.
We're available 7 days a week.