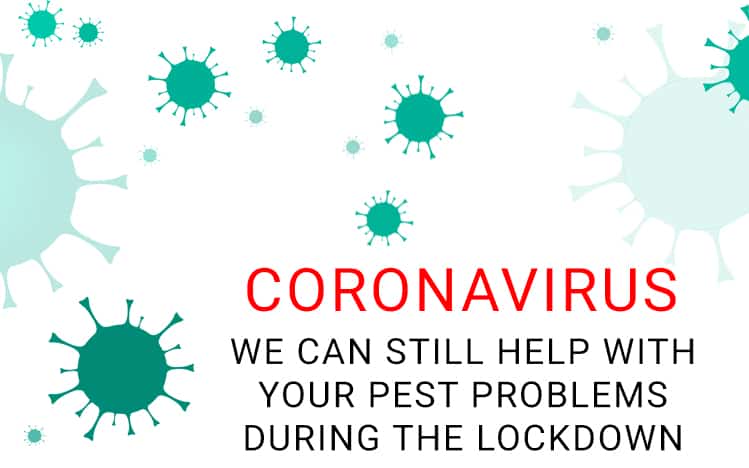 Can I still get pest control during corona virus restrictions?
Yes, we can still help customers with pest problems – pest problems don't just go away because of a virus!
A lot of people have pest problems indoors and pest control is essential work. Pest problems inside cannot be ignored or treatment delayed because pests can cause a lot of damage to properties and endanger human health too.
You can't just ignore noises in the roof because of the virus. There could be a grey squirrel sheltering in the attic, or rats or mice in the roof. It is not pleasant, hygienic or safe to have a rat infestation or a mouse infestation in the house or attic. Rats and mice spread diseases and can cause a lot of damage to pipes and cables in a property through their chewing. Grey squirrel can cause a lot of damage as well to cables and pipes and the structure of the attic and roof. Our mouse pest control and rat pest control to get rid of mice and to get rid of rats inside is an essential service and we are continuing to provide it, along with grey squirrel control.
Insects like silverfish, fleas, moths, bed bugs and beetles and carpet beetles can be found in houses very often and require pest insect control as essential work to stop damage to the property and the distress the pests cause to customers.
However, many pest problems are outside and this type of work can be done safely.
Getting rid of pigeons under solar panels, mole control in lawns, getting rid of rabbits, rat pest control in gardens or on farms, ant control for ants on patios, crows attacking windows, bird-proofing against pigeons and swallows and house martins, wasp nest removal and squirrel control.
We are trying our hardest to help customers with all these problems.
You can ring and ask for advice: we will be able to tell you if there is something you can do yourself to control the pest problem.
We can identify insects from pictures you send us too.
We can still visit to treat a pest problem inside and be assured that we are taking all available precautions to avoid the spread of the virus.
We are following all the latest virus updates carefully and following government guidance.
We are fully equipped with masks, protective gloves, shoe covers and disinfected workwear.
We are fully stocked with virus disinfectant and fumigation.
We have a strict protocol for making visits and for keeping a distance between us and our customers.
We discuss all details with the customer before we visit and make sure that it is safe to make a visit.
So if you need pest control in Perth, pest control in Pitlochry, pest control in Kinross, pest control in Dundee, pest control in Auchterarder, pest control in Dunfemline or pest control in Cupar or need a virus disinfection service then please contact us for professional pest control and advice.